CEO of CYBERAGENT CAPITAL VIETNAM INC.
Nguyen Minh Tuan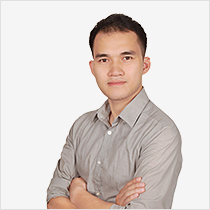 With a young and well educated population and fast growing market, Vietnam is a highly promising market. The start-ups are exciting to fullfill the market's need. We are here with all the advantages and knowledges from CyberAgent group, help challenging entrepreneurs pushing the edge. Together we can bring to the world the best services.
Career
After graduation from University, Mr.Tuan worked for one of the biggest E-commerce company in Japan as a system engineer. He joined CyberAgent Capital Inc. in August 2014 as an investment associate, searching and investing in the startups in Vietnum. Mr.Tuan graduated Master of Engineering from University of Tsukuba.